I was a little uncertain about making another Minecraft article but, I couldn't help but sharing this wonderful new world with anyone who hasn't yet experienced the pure joy that makes Minecraft as addicting as it is!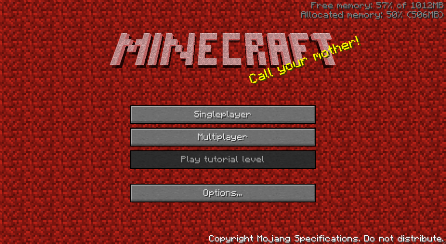 At first I was quite hesitant about spending the €9.99 or $15. The game looked too simple and bland with it's blocky pixelated graphics. I've had problems with running games on my horribly outdated computers. On top of all this i'm horribly cheap. With all these little facts adding up you might see why I wasn't quick to jump on the bandwagon.
After watching a few of these videos,  (Listed below) I couldn't control my excitement towards playing this upon arriving home. My excitement was not disappointed a bit as I indulged myself in the most open-ended sandbox of a game I've ever seen!
Basically the only point of the game is to survive against the monsters of the dark.  But the game basically encourages you to do so in the most epic fashion possible. Perhaps you're one for digging monstrously deep and maze like caves? Maybe you're more for the traditional log cabins? I for one was more of a create an inlet into a mountain then hide it in a waterfall kinda guy. But this is all just small talk when getting into what you could possibly do in Minecraft! To anyone who has joined the Multiplayer server Aaron Nelsen has created for the people of Hijinks, they know a little better, some of the possibilities and limitations of this world. In just a few hours the team (but mostly Aaron so I hear) created a huge stone castle that stretches above the clouds, winds through the earth, has walkways to connect towers farther than the eye can see, and my personal favorite: lava falls.
My point is, if you're on the fence about this game like I was, don't be. It's a remarkable game, is fairly cheap, you can download it as many times as you want, and all updates (and there will be many) are free.
http://www.youtube.com/watch?v=0VWnQHS-ffs