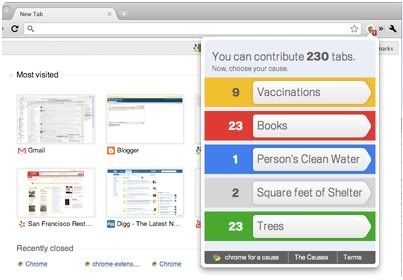 The Google team has come out with an extension for Google Chrome to make  a difference in the world. That extension is "Chrome For A Cause". It was released this morning (12/15/10).
Here is a quick explanation provided by Google: "Google will make a donation to worldwide non-profits on behalf of the Chrome community, based on the number of tabs you open in Google Chrome between December 15-19. You'll be supporting charitable causes, just by browsing the web."
This is a great way to help the world with doing nothing more than you normally would. So go download it now!